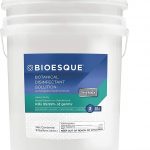 List Price: $75.00
Discount 1 Price:Any orders purchasing $0 to $100 dollars receive this special pricing$50.00
Discount 2 Price:Any orders purchasing over $100 dollars receive this special pricing$50.00

Description
Product Downloads
Additional information
Reviews (0)
Description
Save Money with a Quantity Discount on Bioesque Botanical Disinfectant
When you are committed to saving money, you buy products that do multiple jobs and are available in significant quantities at a discount. For natural cleaning, sanitizing and disinfecting, that product is Bioesque Botanical Disinfectant. Using patented Thymox Technology, with a broad-spectrum disinfectant recognized by both the EU and the United States, Bioesque Botanical Disinfectant can be used for hand application, in sprayers, and foggers to eradicate and eliminate viruses, bacteria, fungi, molds, mildew, and odors from a wide variety of surfaces and facilities. Available in a five-gallon bucket, Bioesque Botanical Disinfectant offers you the maximum in functionality with significant economic savings.
Why Use Bioesque Botanical Disinfectant?
Bioesque Botanical Disinfectant has a number of advantages over its competitors. For both what it contains, and what it does not, the Thymox Technology at the heart of this disinfectant stands out in the huge industry of cleaning supplies. Some of the most noteworthy benefits of this product include:
Botanically Derived — thymol, a natural plant-derived product, is the active ingredient. Other complementary components are likewise plant-sourced to avoid toxicity for clients and workers.
Non-Corrosive Formula — harsh chemicals are not included in Bioesque Botanical Disinfectant, meaning it is recommended for use on almost every type of surface.
EPA Registered Disinfectant — unlike some botanical products that just claim to disinfect with herbal remedies, Bioesque Botanical Disinfectant is tested and registered with the authorities of major nations.
Bioesque Botanical is proven to provide the following benefits:
Kills 99.99 percent of viruses in one minute.
Kills 99.99 percent of bacteria in two minutes.
Kills 99.99 percent of fungi and molds in three minutes.
Kills Mycobacterium tuberculosis in three minutes
When you buy five gallons of a product, you want to have confidence that it works! Bioesque Botanical Disinfectant provides that surety with a proven track record of effectiveness and the acceptance of major organizations of industrial and governmental oversight.
So start saving money, time and effort by purchasing Bioesque Botanical Disinfectant in the five-gallon size from Superior Restoration Products!
(CALL FOR SHIPPING COST AS PAILS MAY HAVE EXTRA HANDLING CHARGES BY UPS OR FEDEX)
Applications
---
Only logged in customers who have purchased this product may leave a review.