List Price: $129.00
Discount 1 Price:Any orders purchasing $0 to $100 dollars receive this special pricing$99.00
Discount 2 Price:Any orders purchasing over $100 dollars receive this special pricing$99.00

Description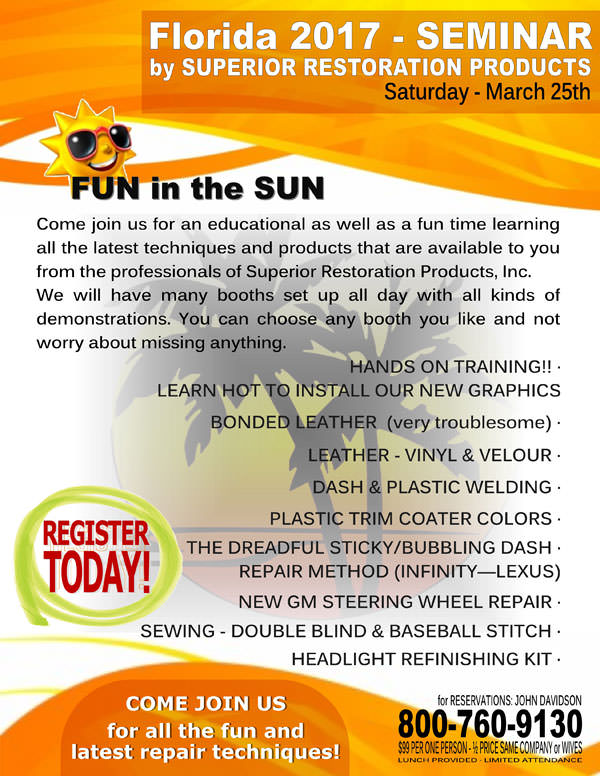 Sunrise Florida East Coat Warehouse, March 25th 2017 – 8:30am – 5:pm
Please come take a look an learn all the tricks of the trade from Superior's 100 years of technicians experience. We will have many booths set up all day with all kinds of demonstrations. You can choose any booth you like and not worry about missing anything.
We will be featuring
Our 1 STEP Graphic Laminate System we introduced in 2007 and updated in 2016.
Leather – Vinyl – Dash – Velour and Plastic Welding
Superior High Performance durable Plastic Trim Coater Colors with High Metallic finishes. (every car has this problem on the consoles – door panels – armrest and dashes)
Easy 3 Step Headlight Refinishing Kit with High Performance Clear Coat!
High Density Heat Cure Extra Strength Sandable Leather/Vinyl Compound.
And many other Tricks of the Trade!
$99.00 entry fee if paid by 2/15/16 – $129.00 after
Register here or call 1-800-760-9130.