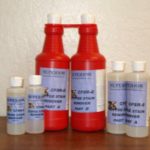 List Price: $63.95
Discount 1 Price:Any orders purchasing $0 to $100 dollars receive this special pricing$59.95
Discount 2 Price:Any orders purchasing over $100 dollars receive this special pricing$55.95

Offer Ends In:
2
Days
10
Hours
37
Minutes
51
Seconds
Description
Additional information
Reviews (0)
Description
REMOVES COFFEE, TEA, URINE, VOMIT & VARIOUS OTHER STAINS
1) It is best to clean and rinse spills to remove contamination prior to stain removal procedure. Blot dry throughly prior to treatment (the dryer the better).
2) Combine equal parts of A & B Solution when using. Use a small amount as the extra should be discarded.
3) Spray on dry stain and agitate into the stain. Always wear gloves.
4) Groom area being treated so fibers stand up and are not matted.
5) Allow to dwell until stain disappears. Wipe away excess foam with a damp cloth. Repeat if necessary.
TIPS AND CAUTIONS: Always use a fresh mixture and use within 5 minutes.Always wear gloves and mask.Always dispose of extra product, loses potency after a short period of time. Always dry carpet fibers first.
---
Only logged in customers who have purchased this product may leave a review.